Finally! I made it. And with only a bit of time to spare. I apologize profusely, Mr. Toast and all you distinguished guests! But when you hear my tale, I'm certain you'll understand just why I'm so late.
Oh good, I see Mr. Darcy arrived! I'm glad. ...Yes, yes, I'm fine dear friend. Your concern is appreciated. ...What? Send out the cavalry? No, no there was no need. I was in good hands..er..paws. ...Oh, well, yes, that does require some telling. But first a hot drink would be much appreciated...Earl Grey please, and make it a double!
I was in my room, when last we spoke, searching for my beloved (faux) fur when I stumbled upon a small chamber which adjoined to my room. I grabbed my bag thinking I'd pop in, find my fur, and be off. In the room was a large wardrobe of the most beautiful quality I've ever seen! The wood was like nothing I'd seen before. Perhaps my fur had been put in there by the man who brought up our bags. I opened the door and peered in ...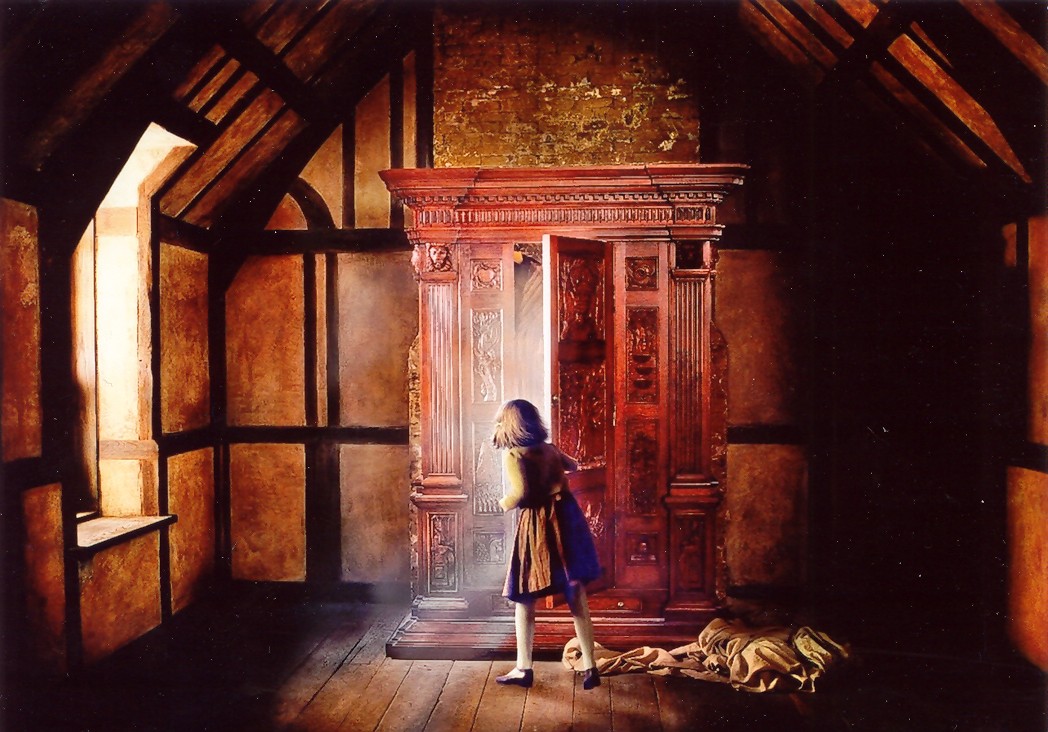 I saw many coats, but not my fur. I did, however, see something white in the very back of the wardrobe. Could that be my fur? I crept in on hands and knees and reached for it. Imagine my surprise when I found that the wardrobe just kept going. Further and further back I went until I felt something very cold and very wet on my hands. No! Impossible! There was snow in the wardrobe! I crept out and found myself in a forest. A snow covered forest, completely silent. Not a bird sang, not an animal scampered by. Just trees, silent snow, and a lamp post burning brightly up ahead.
It is impossible to describe my confusion! I had to touch the lamp post to convince myself I was not dreaming. I looked around, thinking if there was a lamp there must be a road nearby. A road I did not see, but I began to hear a strange sound, like silver bells tinkling in the distance. A sleigh appeared, elegant and icy, pulled by reindeer.
Could it be
, I thought,
Saint Nick?
But no, it was not Father Christmas at all but a tall, dangerous looking woman dressed in blue and crowned with icicles.
She appeared nice enough and asked casually for my name and where I was headed. I told her I was on my way to tea but misplaced my fur and fell, quite literally, into the forest. "Could you, I asked, perhaps guide me back to the wardrobe? Or perhaps you know Mr. Toast and could direct me to the tea?"
Her eyes narrowed and she told me crisply that she knew of no tea and had no toast. The only wardrobes were encased in ice in her castle and the only fur she knew of was her own, warm creation sitting in her lap. Then she began asking me many questions about my family, how many brothers and sisters I had, things of that nature.
Suddenly, a frightening roar came from the forest and the ice queen jumped! She spun around to the trees and her eyes widened in terror! There, emerging from the trees, was the largest polar bear one could imagine! I'd never seen a polar bear before, but this one had to be a giant compared to his already large brethren. Oddly enough, he was dressed in armor.
The bear snarled and the queen whipped her reindeer into action. They sped off at a whirlwind pace, disappearing behind the trees and leaving me to confront the giant bear alone. He grinned as she went, and gave me a little bow. He said he heard my story and could indeed guide me to the tea. There was a road, and if I needed to be somewhere, anywhere, the road could take me there. Up on his back I climbed and away we went!



On and on we trudged through snow and up hill, no sign of the lodge (or my fur) in site. The bear began to wonder out loud if the road had been enchanted to lead us off course. "By the White Witch", he said. I did not need him to tell me he was referring to the woman I had just met. It soon became apparent that we'd been wandering aimlessly, with no destination in sight. Furthermore, we had no way of knowing the way back. The bear's paw prints had been covered by snow flakes, large, drifting ones the size of dinner plates.
We needed directions but who to ask? I told the bear if he could just get me back to the lamppost that I could go back through the wardrobe and take a more traditional route to the tea. He admitted, embarrassed, that he knew not the way.
It was then I noticed we were being watched! Someone was peeking out at us from behind a large tree. He seemed to be carrying a red umbrella. I called out to him, told him not to be afraid, not thinking how ridiculous that sounded seeing that I was riding atop a huge, armored bear! The man came around and *gasp* he wasn't a man at all but a faun! Oh delightful! A faun! And a handsome faun at that ;) After convincing him the bear would not eat him, we asked his assistance in finding the lamppost.
"It's simple," he said, indicating with his red umbrella and shifting the parcels he had in his hands under one arm, "Just head that way, stray straight, and you can not miss it!"
I thanked the dear faun and away we went. No more than a half hour later, we were standing beneath the burning lamppost. "I guess this is goodbye," I said as I hugged my armored friend. "I would love for you to join me, but I'm afraid you wouldn't fit through the wardrobe!"
"Don't worry," he said smiling (if a bear can smile), "I would frighten the guests and I'd hate to ruin such a splendid occasion as a Christmas tea."
Away I went, thanking him for his help. I crawled back through the wardrobe, never once seeing my fur, scampered down the hallway and just in time to hail a passing sleigh!
And now, dear friends, I must go. There are foods to try and teas to taste and guests with which to mingle. My story is unbelievable but I assure you, it is all quite true. I'll just check my lipstick...


...and be off! Amazing that this dress managed to emerge from that bag in such fine condition! Oh, and I did manage to bring a bit of something along with me. When the White Witch was frightened off, she left the loveliest silver container behind her. I picked it up and decided it would make a truly gorgeous host gift. I do hope you like Turkish Delight, dear Mr. Toast!