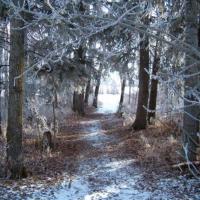 picture found
here
Old soul, you were born to wander, switchback cobbles and fairy rings. Sweater born of silk worm spinning's around you, boots of glossy floral and plaid, you creep out front door into the wild. "Wild nights are my glory," a favorite from childhood proclaims between crinkle stained pages and you heartily agree. With the wind whipping your hair, your lips into a grin, you crunch your way between leaves. Down falls, shaken from slumbering clouds. The moon sheen on ice branches reflects your appetite for shining; your fingers gather talismans dripped from elves: smooth stones, holly leaves, quartz.
On you trudge, pushing past the thorn berry bushes, to the center of the wood of heart and home. There you are reborn, no longer confined to judgements, your spirit is free to roam on it's own, unencumbered by the vise of technology, dress code, standard procedure. For here procedure is one of the heart, of what you can see with your mind's eye. Here you are safe, for the moment, and can be. Ontology: the study of the nature of being. Ontological: your mindset: you know you are. Think, therefore I am. Here you aren't afraid to be.
"Don't ask yourself what the world needs. Ask yourself what makes you come alive and then go and do that. Because what the world needs is people who have come alive."
~ Howard Thurman
Allow yourselves to BE this weekend.
Journey on,
Jen